Recently, BrainMark had a training session on OKR Application Practice with the cooperation of Hung Thinh Group.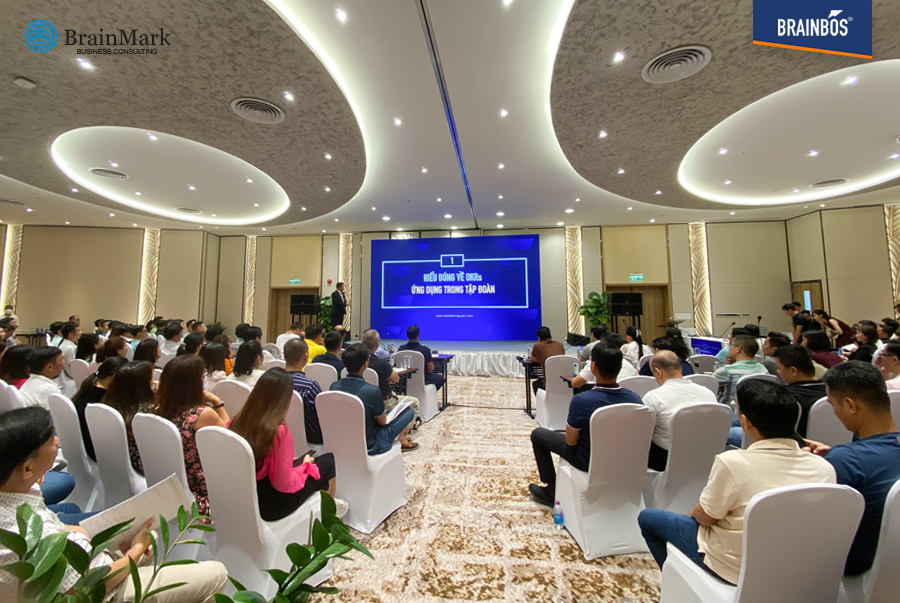 The training program hosted by MBA. David Tan Nguyen – Chief Strategy Officer of BrainMark attracted the participation of more than 300 board members and middle managers.
OKR, also known as Objective Key Results, is considered an effective tool for work performance assessment and measurement. More importantly, it also supports managers in evaluating employees' capabilities in an accurate and objective way, thereby proposing a proper employee recognition and reward policy.
OKR application is now regarded as an effective and scientific management practice that contributes significantly to cost savings and profit increases.
However, it is essential for enterprises to have a clear understanding of OKR and understand thoroughly the differences between OKR and KPI for correct practice and application.
The training program includes 5 main parts with the following content:
Part 1: Understand the nature of OKR
Part 2: How to Build OKR
Part 3: How to check in periodically
Part 4: Practical Examples of Building OKR
Part 5: 5 steps for successful implementation of OKR
MBA. David Tan Nguyen gave out specific examples and practical assignments so that all attendees acquire general knowledge and a deep understanding of the implementation method in the program.
BrainMark Vietnam expects middle managers to comprehend and know how to apply OKR effectively for their business.
Hung Thinh Group, with 20 years of establishment, has implemented more than 100 projects with over 4,500 hectares of land reserves and launched more than 50,000 products to the market. Projects invested in and developed by HUNG THIANH GROUP were scattered across the nation, not only in major metropolises such as Ho Chi Minh City but also in other potential areas such as Binh Duong, Dong Nai, Ba Ria-Vung Tau, Binh Thuan, Lam Dong, Khanh Hoa, Binh Dinh, and Hanoi.
As the core foundation of real estate, Hung Thinh officially transformed into the group that innovates and sets up a complete ecosystem, including investment and development of all types of real estate, construction, PropTech and Fintech technologies, digital platforms, etc.
Resonance philosophy that has a significant contribution to this comprehensive ecosystem in the new model will allow HUNG THINH GROUP to strengthen its adaptation and elevate its leading position in the Vietnamese real estate market. Moreover, many subsidiary companies with 20 years of experience in the new ecosystem will maximize their capacity to create more products with real values that bring trust, satisfaction, and practical benefits for customers and partners in the ecological chain to foster together "For a thriving community."
BrainMark Vietnam.