On the 30th of October, 2022, BrainMark held a training session on BrainAOP – build an effective Annual Operating Plan with Amerasian Shipping Logistics Corp (ASL)
The AOP, also known as Annual Operating Plan is a specific plan that demonstrates annual business operations of an organization. Also, it is used to outline specific plans, estimates on income and expenditure during a period of one year, thereby determining the most accurate operational goals of the business in the near future.
The proper time for enterprises to make their own operating plans is in quarter 4, because no plan means that they will end up with failing. Therefore, Amerasian Shipping Logistics Corp (ASL) decided to have training courses on business plan methods for employees at this time.
MBA. David Tan Nguyen – Chief Strategy Officer of BrainMark Vietnam, directly trained and coached BrainAOP – making annual operating plans according to the BrainBOS Model for 30 employees at the head office of ASL Corp, which is located at 31/34A Ung Van Khiem, Ward 25, Binh Thanh District, HCMC.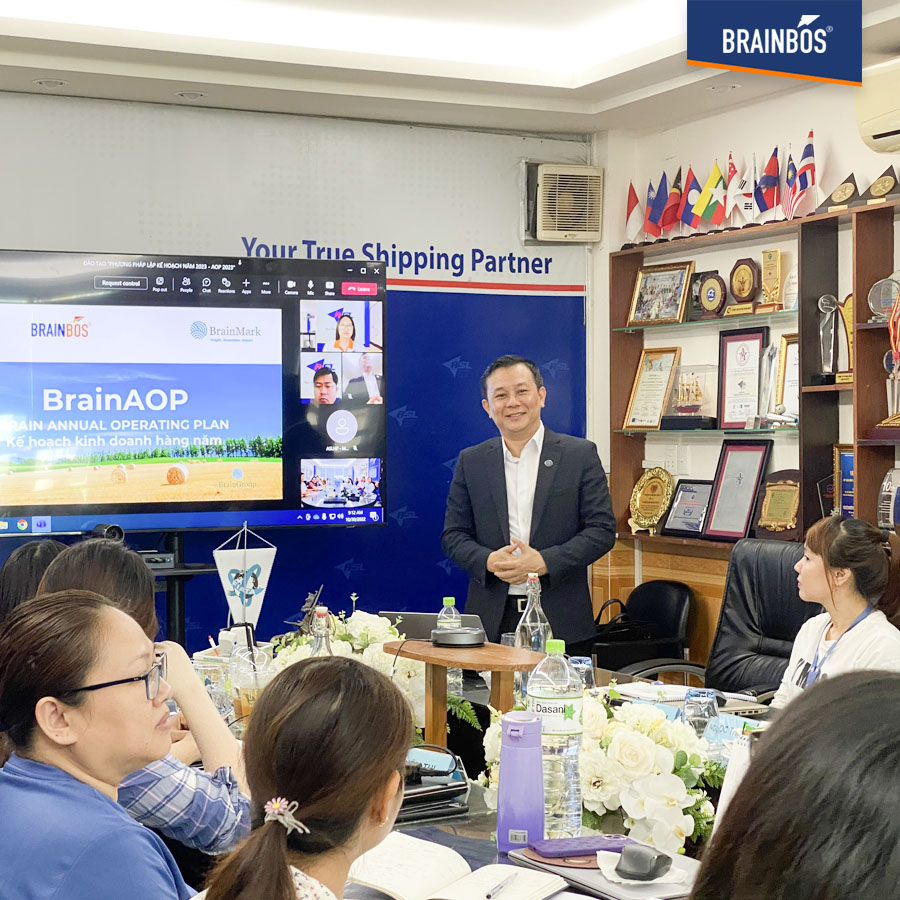 As the content of the BrainAOP training program, BrainMark provides clear guidance on how to create annual operating plans, which assists corporations in specifically determining goals to be prioritized, identifying clearly target audiences, developing proper business strategies, and improving the sense of coordination and solidarity among employees and departments.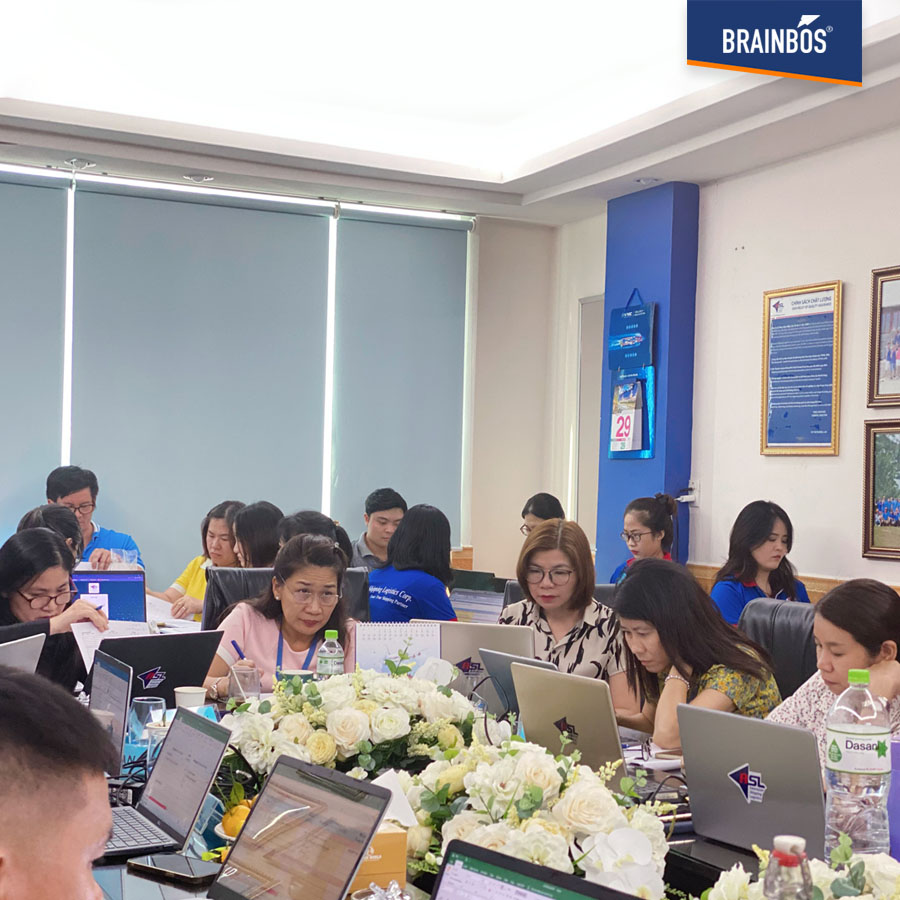 The extensive training and coaching program includes 2 sessions with the following main content:
Session 1: Necessary and sufficient conditions for sales growth in 2023
Improve team spirits and strengthen mental states for the new business year.
Make preparations for plan-making process in 2023
Create an AOP-making process for 2023 based on the BrainAOP Model.
Determine the departmental health indicators.
Orient Company's strategies in 2023
develop company goals in 2023.
Session 2: 2023 Comprehensive Growth Solutions
Develop OGSM goals and solutions for each department in 2023.
instruct on methods for making HR, action, and budget plans in 2023.
Instruct on methods of presenting and approving AOP 2023.
Allocate approved plans in 2023.
Connect KPIs to have an effective evaluation of AOP 2023.
Instruct on making AOPs according to BrainAOP software.
More importantly, MSc. David Tan Nguyen introduced a new solution to make operating planning simpler and more time-saving during the training session. It is known as the BrainAOP software application, or operating planning software.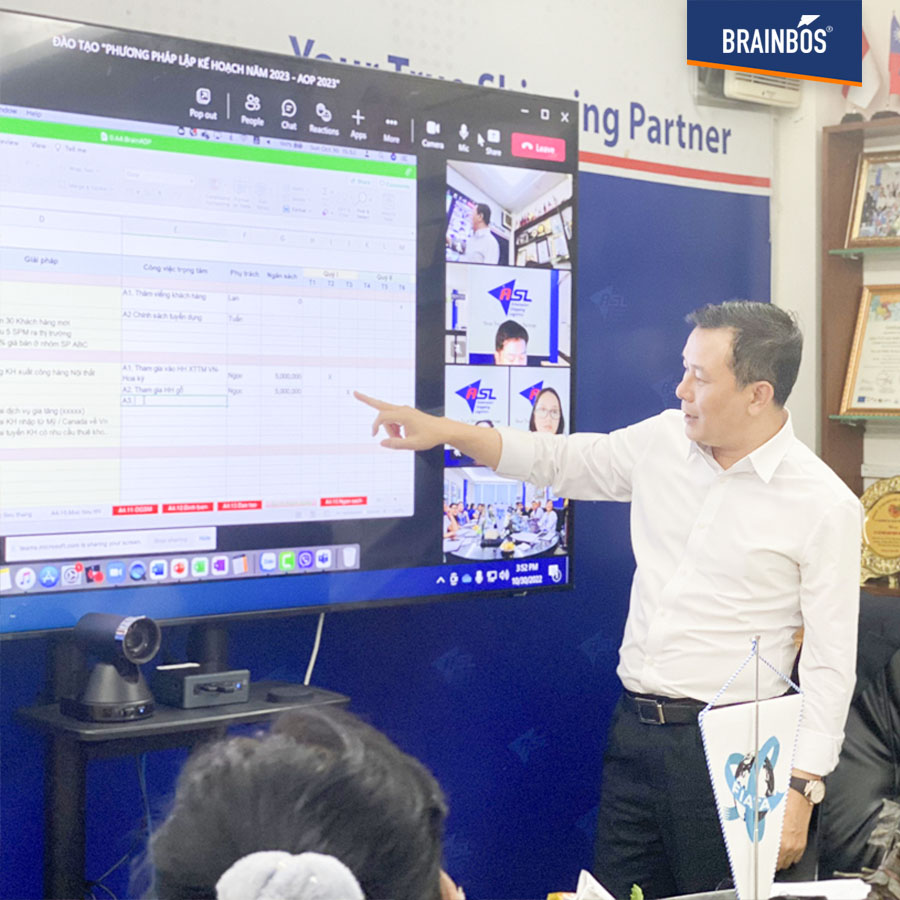 Benefits of BrainAOP operating planning software
Automate processes
Optimize setup time
Record data instantly
Manage effectively and continuously
Connect closely with departments and businesses.
Mr. David Tan Nguyen always stated specific examples and practical assignments during the training, which allows attendees to not only acquire knowledge easily but also understand methods and implementation procedures without any difficulties.
Established in 2005, Amerasian Shipping Logistics Corp. (ASL) mainly operates in the field of international freight forwarding with the motto "High Efficiency – Low Cost – Fast & Prestige." With more than 20 years of establishment and development, ASL has become one of the leading providers of international transportation & forwarding services, customs declaration, and domestic transportation in Vietnam. ASL Logistics has obtained the certificate of service quality according to the international quality standard ISO 9001 (2015), certified by the international certification organization named Bureau Veritas Quality International UK. The Ministry of Transport of Vietnam issued a multimodal transport license in June 2012.
ASL Logistics is a large-scale organization with more than 200 professional employees. Besides, it is equipped with a wide range of modern facilities and utilities, that apply the ISO 9001:2015 standard system and Kaizen-5S, along with a network of cooperative agents in over 190 nations. Currently, with the goal of becoming a professional and international standard ASL Logistics company with full services and supply chains that are tightly linked. In addition, ASL Logistics is also an official member of many prestigious domestic and foreign freight forwarding organizations, such as the Vietnam Logistics Business Association (VLA), the Vietnam Chamber of Commerce and Industry (VCCI), the International Forwarding Association, the International Air and Shipping Association (IASA), the World Cargo Association, and the Ho Chi Minh City Logistics Association.
BrainMark Vietnam.