On the morning of October 15, 2021, BrainGroup celebrated Gratitude Day with the participation of Master Nguyen Dinh Ba – Vice Principal of Quang Trung Technical School, BrainGroup's Board of Directors, and all BrainGroup employees.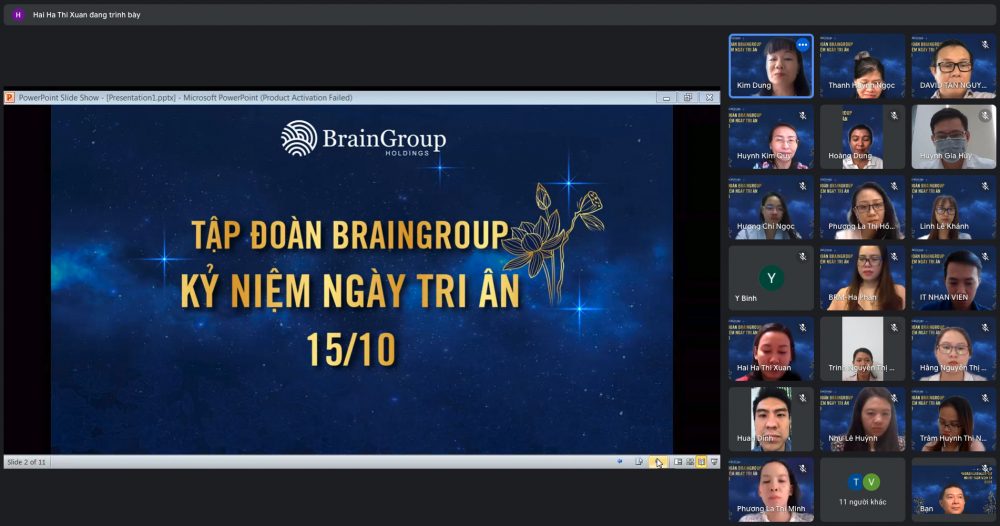 Appreciation – Gratitude are not only a philosophy of life but also a great quality from the heart of BrainGroup. Gratitude, which is derived from compassion and accountability, is a wisdom in life as well as a powerful weapon that can erase tons of obstacles in life.
Sincerity – Integrity – Gratitude have always been the guidelines that the leaders and staff at BrainGroup have learned from the sages and been demonstrated to be the cornerstone of a happy existence for thousands of years.
With that spirit, the BrainGroup always celebrates the Gratitude Day, which takes place on the 15th of October annually to express appreciation and gratitude to their parents, company's board of directors, as well as their colleagues and friends. BrainGroup organizes an online gratitude celebration this year to maintain the unique values of corporate cultures due to the complicated status of the epidemic COVID 19.
To begin with, Mr. Nguyen Thanh Tan, Chairman of BrainGroup, will first introduce the festivities on behalf of the Board of Directors by defining "gratitude" and explaining why BrainGroup usually celebrates gratitude day rather than other days such as anniversary or the establishment of the corporation. with the primary objective of reminding employees that gratitude is consistently the company's core value. We must constantly be grateful to those who gave us life and to those who are always by our side to help us go through challenges and problems if we are to attain the outcomes we have today. The law of cause and effect always exists, and gratitude is the sign of noble souls.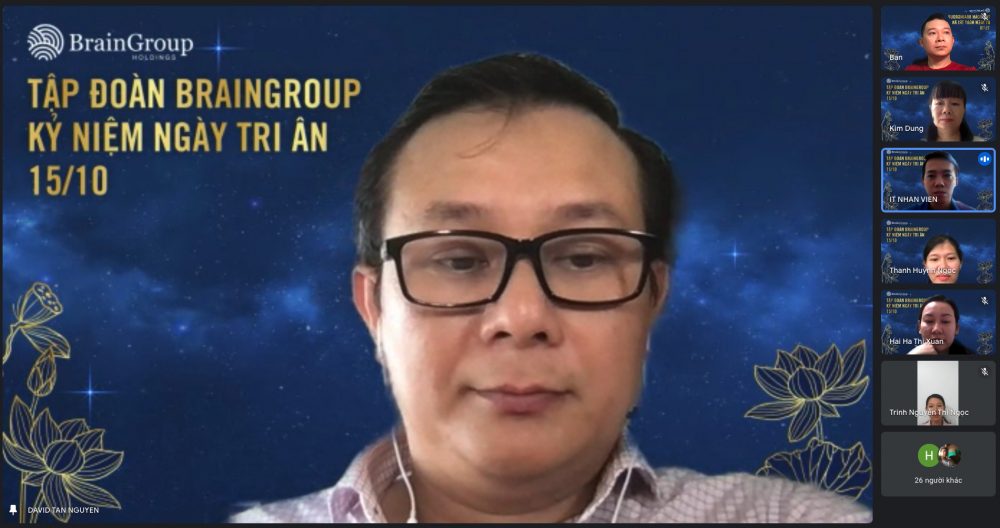 Through the program, BrainGroup members have experienced and shared their true feelings exclusively with their parents, the company's Board of Directors, and their colleagues during the recent pandemic. Sharings and tears all create an extremely warm and genuine atmosphere.
"Really the company for hosting this celebration, I am a covid-19 patient, but I have to take care of my father at the field hospital," Ms. Huynh Nga, Sales BMG, said. Because of my father's stroke, I had to calm everything down. During the course of my treatment, I occasionally felt quite disappointed and vented my frustrations on him, but thanks to the program, I recognized that this behavior wasn't appropriate. I need to think twice right away. Don't put off making a decision until you regret it later. Young people should also think twice about their actions and change them while they still have the chance.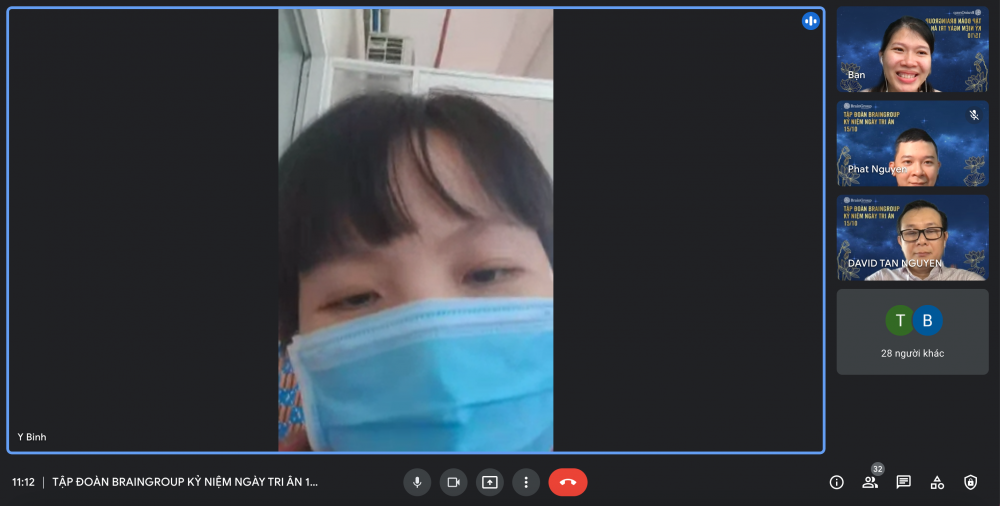 Besides, the project specialist for BrainMark, Ms. Hong Phuong, added, "This was Phuong's first time attending such a program, and I was particularly moved and touched by the song named Ganh Me. since the current outbreak was quite challenging for me and my family as well. Even though the moment was a very challenging with stagnant economy, but the company understood and supported Phuong's family more economically. In particular, Phuong got a call from her mother on September 30 saying, "The plague has abated, you may get out and drop by me." Since Phuong's family is going through a terrible time right now, her mother does not want to be visited by her daughter; instead, she just wants to give her some money because she knows that her family is very difficult right now. She simply wants to give her mother a big hug and tell her how much she loves her.
In addition to the sharing of employees, BrainGroup also expressed gratitude to the creator of all BrainGroup employees a practical gift. In addition, BrainGroup appreciates and recognizes the recent exceptional accomplshments of several members who have actively advocated in the past time:
Ms. Phan Thi Thanh Ha – BrainMairk Project Manager
Mr. Phan Minh – BrainMark Project Specialist
Ms. Le Huynh Nhu – BrainMark Project Specialist
Ms. Le Khanh Linh – BrainMark Customer Service Department Manager – Hanoi Branch
Mr. Le Hoai Nam – BrainGroup Digital Marketing Specialist
If we don't make an attempt to transform the rebirth into a specific action, it will always remain a hope. That is the main point of the program that we want to get through to every BrainGroup employee. Let's remain unified and work together to achieve our common objective.
All BrainGroup employees sang "Happy Birthday" to Mr. Nguyen Thanh Tan as the presentation came to a close. We appreciate you creating BrainGroup with a unique culture that comes from our hearts.
BrainMark